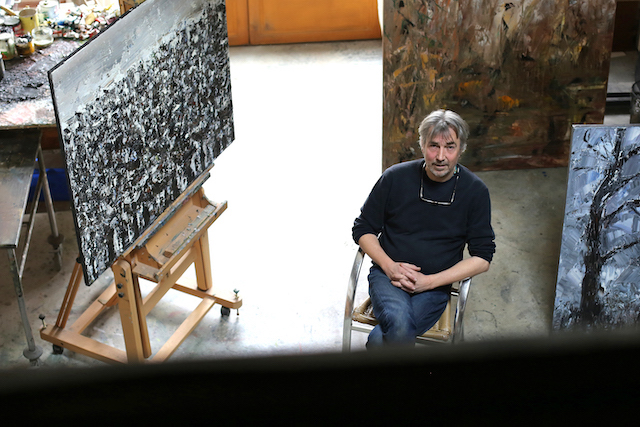 Régis Minois, was born in Saint-Malo in 1959. Very young, discovering Raphaël, Courbet, Van Gogh, Picasso … he knows that: "It will be painting and nothing else …"
He entered the Le Mans School of Fine Arts in 1977, and a few years later, at 23, he exhibited for the first time at the city's Palais des Congrès. Then, encouraged by his first successes in the Gallery and supported by a few collectors, he decided to devote himself entirely to his painting in the early 90s.
In 2000, following several exhibitions in Italy, he moved to Tuscany where he will reside for two years with his family, supported by a patron who provides him with a chapel which will serve as his workshop and residence.
Upon his return to France, he settled in the south-west of France, and in 2009, the municipality of Albi offered him the space of the Hotel Rochegude. He created and exhibited 25 paintings where the reflections of the city float in the waters of the Tarn.
In 2013 he participated in a series of group exhibitions in China, in Wuxi, Shanghai and Beijing.
In 2017, he was welcomed by the Musée des Beaux-Arts de Gaillac for the solo exhibition "the tree hiding the forest", a major retrospective of his work painted since 2008.
Régis Minois's paintings appear in multiple private collections in France and abroad (Italy, United States, China, Sweden, Switzerland, Netherlands, Spain, Luxembourg, etc.).
"The painter is always on the edge of two universes
in an impressionist vein
but completely revisited and sublimated ".
Bertrand de Vivies
Curator of the museums of Gaillac (81)
"The amazement of the child was first in the decision to become a painter, it remains first in the concern to reinvent without ceasing at the age of maturity".
Christine Marsaudon
Collector of Minois' work since 1994
Principales Expositions
.  Galerie de la Barbacane, Cordes sur Ciel.
• "By the water" – Matthieu Dubuc Gallery, Rueil Malmaison (92)
• "The Tree that hides the Forest" – Museum of Fine Arts, Gaillac (81)
• Group exhibition: Phoenix Art Center, Wuxi, Pekin; Shanghai (China)
• "With a feeling of nature" – Museum of Fine Arts of Mans (72)
• Roger Betti Gallery – Toulouse (31)
• Artuoz Gallery – Shiny Charters (28)
• Collegiate Church of Saint Pierre Lacour – Le Mans (72)