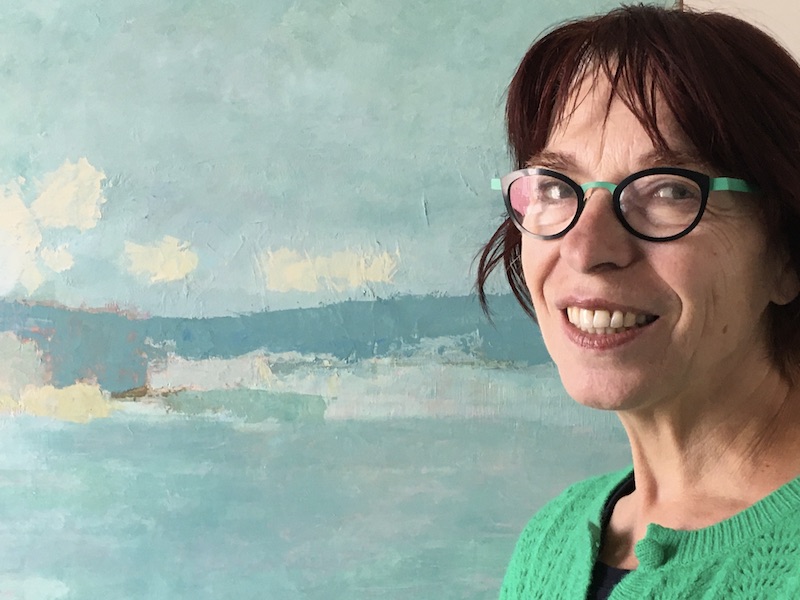 Elisabeth Zanesi was born in 1958 in the High Pyrenees, daughter of a painter, she started painting very early and has been exhibiting since 1998.  She took courses at the Beaux-Arts de Toulouse and started working with Jérémy Annett, Prédo Omerkik, Thibault de Reimpré and Catherine Fournié. 
Following in the footsteps of the colourist painters, she revisits landscape, her main source of inspiration.  At the beginning of her career, she paints on the motif. 
"First of all, I work in the open air, an instinctive, synthetic painting, a painting where the eye tries to capture the atmosphere, the light of a moment, an intensity, a depth".
Nowadays  she works mainly in her studio.  Landscapes arrive on the canvas. She doesn't want to know in advance what her painting is going to be, and doesn't want to think about it. She puts down the paint stains. Breathings and the vibration of colours settle in. She captures an atmosphere, a light, an intensity and transforms them into as many suspended moments and evocations full of softness and faded and touching hues.
"I am not looking for resemblance but balance, harmony, correspondences in a refined space. Another part of me that I don't know knows what she has to say. Painting has to stay alive. I try to be sincere, authentic, true … even if only for a moment, the time to make the color appear on the canvas, sometimes I hesitate, I doubt, I compose … A dialogue is established between the canvas and me".
Main recent exhibitions
2020 – 2023 
Galerie de la Barbacane, Cordes sur Ciel (Tarn)
2019
Galerie Sophie Lemée. The island of Ré (17)
Contemporary art space Nayart : Nay(64) 
2018
Les arts en balade Toulouse (31), 
2017
Gallery 113 in Castelnaudary (11) 
Arts and Culture of Fanjeaux (11)
2016 
Artisana Gallery in la Bisbal d'Emporda (Spain), 
Arts vagabonds Revel (31)
2015 
Gallery : " A hundred meters from the end of the world " Perpignan (66) 
Nou'arts Gallery in Auch (32) 
Museum of Romanesque Art in Cabestany – Perpignan (66)