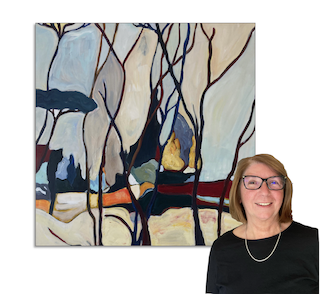 Painting and Art in general have always been part of Catherine FRANTZ's life. 
In charge of the Fine Arts collections of a large bookstore, she has been painting for many years and works as an Art Therapist in psychiatric hospitals for children and adults. 
Her own artistic creation now occupies most of her time. Very sensitive to the artistic movements of the beginning of the twentieth century with a particular admiration for Braque, Van Dongen, Derain, Bonnard and later Munch and Nicolas de Staël, she draws her inspiration from her memories of travels and her encounters with landscapes and people. 
Using forms with very graphic lines and colours that are always contrasting, often vivid, she shares with us the fruit of her dialogues with nature, villages and their inhabitants.  She works mainly in her studio, and strives to reproduce the essence of the impressions she felt when she discovered reality. 
"I try to transcribe the imprint left in my memory
by a place, a tree, a person…"