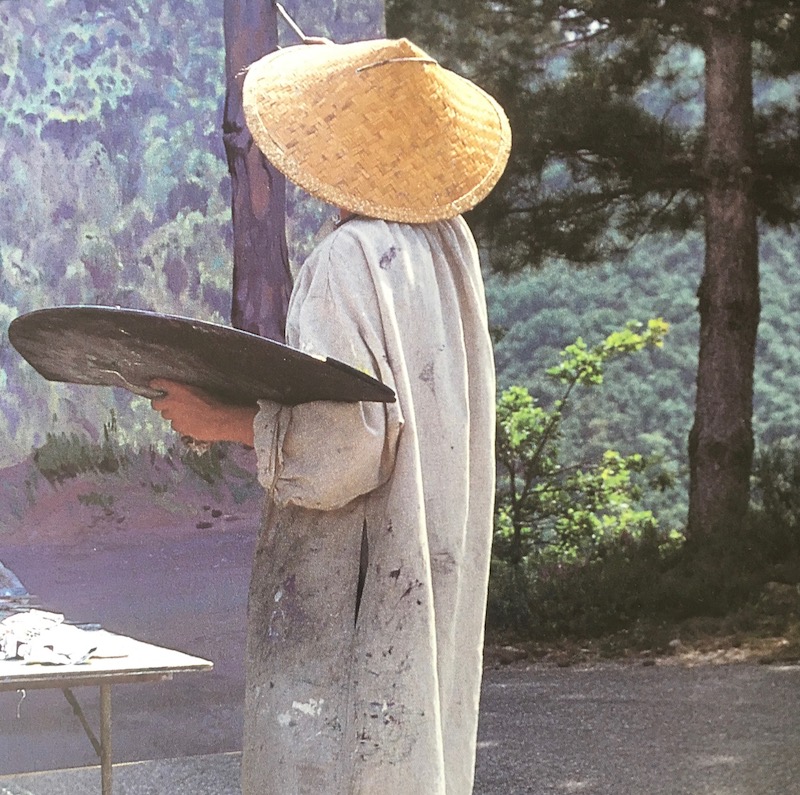 Valentin was born in Boulogne (92) in 1945. From 1963 to 1968 he studied in Paris: Métiers d'Arts et Beaux Arts. From 1968 to 1972; He creates colorful environments in architecture and paints.
Suddenly, he burns his production in a life of wandering.
He went back to painting in 1978 with the tubes of gouache of schoolchildren of his children facing the wilderness of northern Aveyron which collected him.
He never stops painting…
The Series: "Les Deux Pins",
1988 – 2013: Some 300 paintings and around twenty engravings.
The Watchman of the moment …
"Valentin, for years, has come back to the same place: a certain bend in a small, almost deserted road on a slope of the mountain which dominates the medieval village of Conques, not far from a hut that he turned once made (on a ruined farm) and reinstated from time to time for long, almost hermitic periods. The fact is that as soon as he can, he turns back into this bend, where, facing these two pines, hieratic sentinels of a sacred space, he tries to capture the kaleidoscopic variations of light at all hours , in all seasons and in all weathers.
We know, Hokusai, painted more than a hundred times Mount Fuji-Yama, Cézanne nearly eighty times the Montagne Saint Victoire, and so are a large number of artists who set out to represent the corner of the planet which had been devolved to them by fate, made it the particular angle from which all possible perspectives were deployed, the cardinal point of the entire universe."
Denis Grozdanovitch – Writer
Why do we stop in front of a picture of Valentine's Day? … Perhaps as he stopped, one day by the road, in front of the two pines which had seen him pass a hundred times. The sun, the transparency of the air, are not enough to explain the astonishment, the shock of this day there, but undoubtedly, the dazzling emotion of a vision which arises from the plays of light, a feeling of evidence suddenly emerging before the space made palpable….