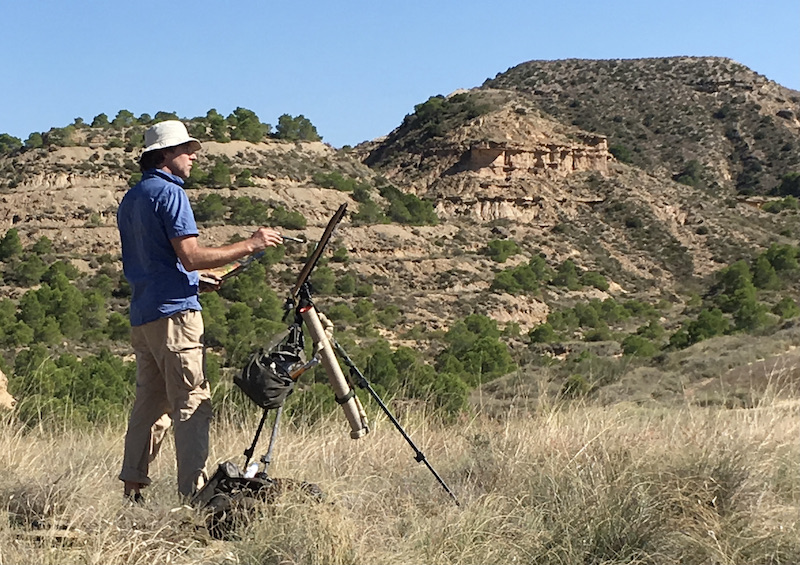 Patrice Suau was born in 1969 in a village between Argenteuil and Pontoise near Paris, in the heart of one of the regions most dear to the impressionist painters. At a very young age, he left school and regularly went to the banks of the Seine. There he met many plein air painters and very quickly followed in their footsteps. 
"I wanted to live this adventure 
I wanted to live this adventure that we call
painting on the spot".
His masters were Corot, Pissarro, Monet, Sisley and many others… whom he studied and whose "pictorial heroism" he felt guided by.
During several years of gentle bohemia, he exhibited his work, scenes of the Parisian street, the banks of the Seine, bridges at night…, in cafés and restaurants. He also made instant portraits. But his passion for nature and the beauty of landscapes led him to travel more and more often to the countryside, the paths, the forests.
"with the easel and brushes in his backpack, 
to pick up the magic of lights and colours…" 
Still following in the footsteps of his 19th century masters, the discovery of the Barbizon forest near Fontainebleau was a real revelation: 
"I fell madly in love with the Barbizon forest,
which was for me an open-air workshop, 
a training for the eye and the technique of the work".
After a few years of wandering, his work is noticed by an animation film director, amazed by his ability to reproduce the atmosphere of the landscapes and to associate the poetry of lights and colours with it… From now on, a new life begins for him and after having collaborated in the elaboration of film sets, he becomes artistic director of big animation film production companies such as "Calamity Jane" (2020), "Tout en haut du monde"(2016) , "Le jour des Corneilles" (2012) , "Le domaine des Dieux" (2014), Lascars (2009) … He also teaches in different artistic schools such as l'Atelier de Sèvres and L'école de l'image des Gobelins … 
His desire to paint on the spot has never left him and he continues to regularly survey nature in search of those magical and often fleeting moments offered by the light on a hill, a field, a cliff, a bunch of trees, a stream… 
"I let myself be surprised by a point of view 
and I paint the moment (…)
The triptych nature, adventure, painting
gives a meaning to my existence".