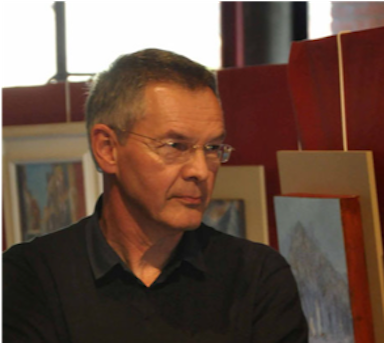 Michel GER does not like to stray too far from his native land. He likes to cross the Tarn countryside and walk along the shaded alleys of the country houses. This does not prevent him from traveling and painting places that have affected him: Morocco, Andalusia, Tuscany among others, with a predilection for Venice which he has visited several times:
"Everything I see inside of me wakes up at every corner of a lane or canal"
His artistic journey begins in 1995. He first works with a brush and dry pastels, then he discovers the knife technique which is for him a real revelation which allows him to express his sensitivity and his poetic approach to reality:
"Everything on this earth is born, lives and dies under the inexorable march of time and I like to transcribe on the canvas this inevitable destiny. "What liquefies, what crumbles, what rusts and wears out attracts me and this is what I suggest when trying to detach myself from the line and the pattern. I keep only the essentials, the material that vibrates under the light and that often emerges from the darkness of our intimate secrets. "
Each canvas is a bit of itself that it offers with modesty and restraint. The spectator will make the effort to discover it and alone, facing the canvas, will try to establish a link with it.
He frequently pays tribute to two great Tarn artists who have always supported him in his approach by offering him their wise advice and friendship:
"I think of Bernard BISTES, painter, owner of the fabulous castle of Mauriac in the Tarn and of the late artist sculptor and painter, Roger CARRIERE dit JEAN MARC de Cordes. They showed me the way I am going the best I can by trying to be trustworthy. "
Awarded twice at Albi's autumn fair (2002 and 2016), his work is regularly presented at personal or group exhibitions in Occitania. In 2006 the Museum of Fine Arts in Gaillac which dedicated a personal exhibition to him.