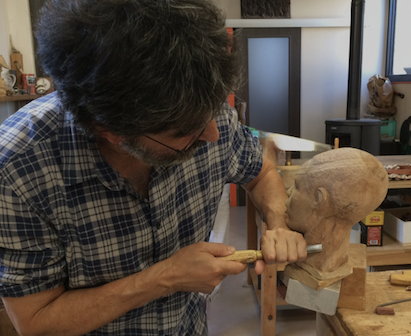 Fascinated by distant and ancestral cultures, Jean Paul Mestres pays homage to the indigenous populations of the African continent, the islands of New Guinea or the Amazon through his sculptures.
It is above all through books that Jean Paul Mestres travels… His work is the fruit of in-depth and documented research on humanity and its ethnic evolutions. The writings of Claude Levis Srauss, the photographs of Camille Zagoursky, Hans Silvester, Sebastião Salgado… are true sources of inspiration. The result is works of striking realism, emotion but also mystery… 
The delicacy of the faces, the strength of the gaze, invites the viewer to an intimate tête à tête with these ethnic groups, a journey to the distant past that celebrates the nobility and pride of these first peoples. 
"I look with fascination at the faces of the aborigines and the first peoples. They're sculptural lines and marked features, reinforced by particular headdresses, tattoos or scarification, jewellery or ethnic attributes that give them a strong identity. This is what I try to bring out in my sculptures".   
Jean Paul Mestres, naturalist sculptor
Jean Paul Mestres mainly sculpts wood, sometimes clay. From time to time, with the help of an art foundry, he creates some numbered and signed bronze editions from his original works. For each of his pieces, he pays particular attention to the patinas that he develops with his foundryman and that sublimate his work as a sculptor by bringing an intense and exceptional emotional charge.