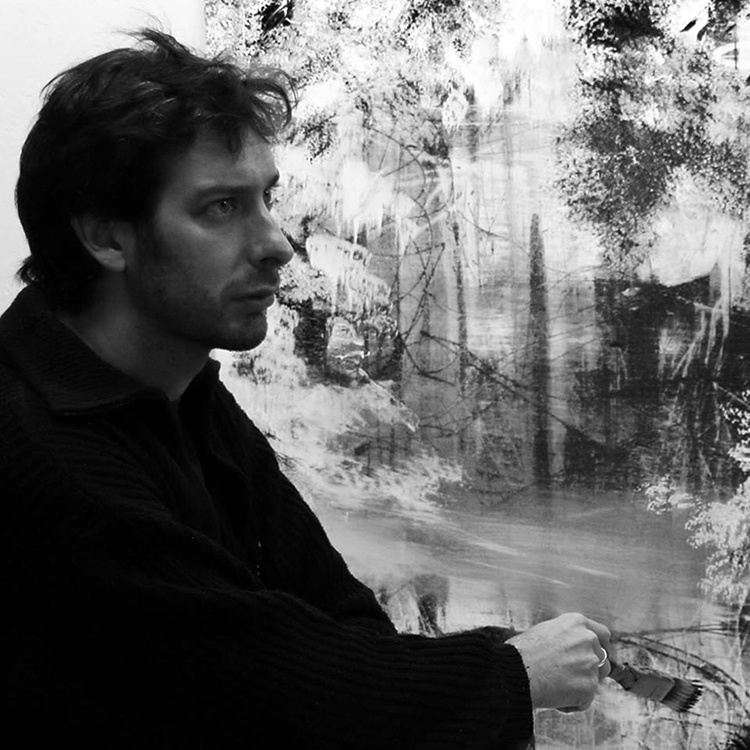 From nature to the canvas, Frédéric FAU constantly strolls a camera, a brush or simply a pencil in hand or even without anything because thoughts and gestures also move: from trees to skies, lakes to mountains, plateaus in the valleys…
From these free and empirical walks, clean or figurative, are born gestures which order the matter on the canvas.
Like black and white, like full and empty, chance and mastery compete for the canvas aiming for the right balance of composition.
Frédéric Fau's landscapes, whose romanticism is as much a wandering as a digression, appear or disappear in the deliberate brilliance of the painting.
The reflection is present everywhere, on the surface of the material, on the horizon of the landscapes, in the lake, the snow or the cloud guessed, returning the eye of the spectator from one to the other for a fascinating and jubilant contemplation.
An astonishing contradiction is that of the painter who, literally imbued with landscapes and nature, uses these only as a pretext for painting. There, a graphic element, here a contrast, there a repetition,… and the table is constructed, intuitively of course, thanks to the gesture worked and repeated but free.
And it is, beyond the undeniable talent of the artist, this freedom assumed as much in the way of approaching painting in its materiality as in the affirmation of the landscape as a place of pictorial walk which makes Frédéric Fau an artist remarkable.
Sylvie Veyrac
Main exhibitions
• 2019 – Galerie de La Barbacane, Cordes sur Ciel (81)
• 2018 – Espace Culturel Le Portail-Haut, Rignac (12)
Artists to follow, Rouvenac (11)
• 2017 – Ningbo Museum of Art, Ningbo, Zhejiang (China),
Les Estivales Lagorre, Castle of Seix (09)
Artists to follow, Serres (11)
Les Moulins Albigeois, Albi (81)
• 2016 – L'Entracte, contemporary art space, Nailloux (31)
Castle of Grèzes (46)
Puls'Art, International Manifestation of Contemporary Art, Le Mans (72)
• 2015 – Parabole Gallery, Tapêi – Taiwan