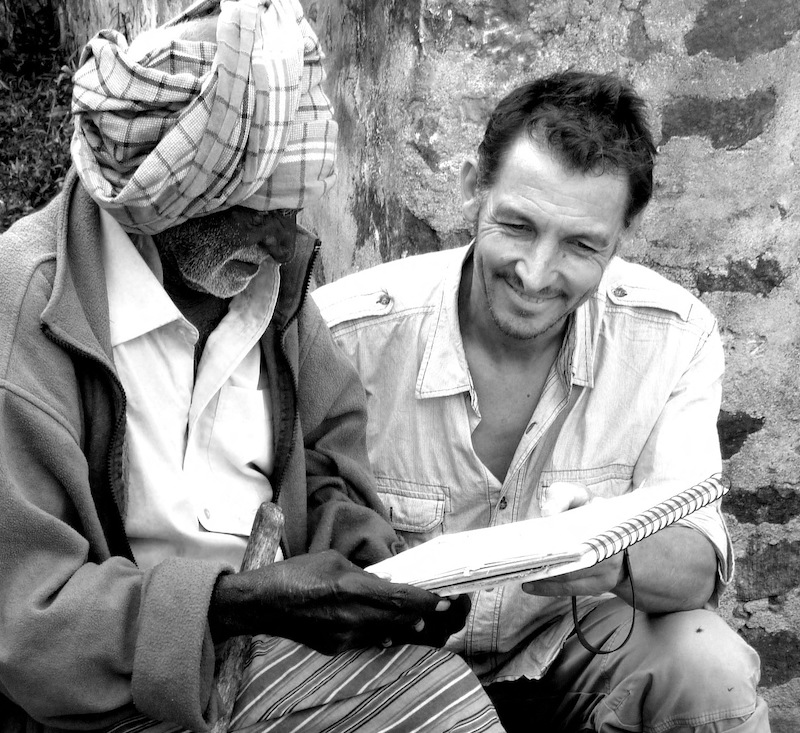 Emmanuel Michel was born in 1970. Since the 1990s, he has travelled the world and devoted himself to painting and sculpture. A member of the French Explorers Society, he draws his inspiration mainly from his travels on the five continents.
His work is resolutely turned towards man in his daily life with his culture, his rites, his simplicitý. Back in his studio, he shares his emotions and encounters from the ends of the earth through his drawings, paintings, engravings and sculptures.
He holds numerous exhibitions in France and abroad, regularly collaborates with various magazines, participates in documentaries, and carries out public commissions. A dozen books relate his work.
He lives and works in the south-west of France and is currently working on a commission from the Société des Membres de la Légion d'Honneur, which wishes to install a sculpture of Napoleon in the town of Montauban. The bronze sculpture will be installed in the heart of the city in November 2021, the anniversary of the creation of the Tarn et Garonne department by Bonaparte.
3 minutes to discover Emmanuel Michel: Click HERE
2019
. A cargo ship in Oceania – Vivienne Art Galerie – PARIS
. Sculptures – Golf des Vigiers – MONESTIER
. Art 3F Toulouse – Parc des Expositions – TOULOUSE
. Art 3F Paris – Parc des Expositions – PARIS
. Emmanuel Michel – L'Imagerie – TOULOUSE
. Sculptures – Van Campen Gallery – ANTWERP (Belgium)
2018
. Errances 912 – Arty Gallery – LOURMARIN
. Tout l'atelier – Le Soleil sur la Place Gallery – LYON
. Babel Bruxelles – Macadam Gallery – BRUSSELS
. Sous d'autres latitudes – Château d'Ardelay – LES HERBIERS
. Art3F Mulhouse – Parc des Expositions – MULHOUSE
. Grand prix de sculpture de l'Académie du Languedoc – TOULOUSE
. Sculpture for Matera, European Capital of Culture 2019, MATERA (ITALY)
2017
. Journey to the Land of Zingaro and other horizons, espace saint Rémi, Bordeaux
. Etre Ailleurs, Centre des Mazades, Toulouse
. Bestiaire, Galerie Rauchefeld, Paris
. Papers, Galerie Rauchefeld, Paris
. 20 years, galerie le soleil sur la place , Lyon
2016
. Peru, Gallery le soleil sur la place, Lyon
. Journey to the Land of Zingaro, Aubervilliers
. Museum of wood. Tour d'horizon Revel
. Lille Grand Palais. Lille
2015
. Solo show Macadam Gallery Brussels
. Art Palm Beach USA
. Madagascar Roux-levrat Gallery Lyon
. Puls'Art le Mans guest of honour Collégiale St Pierre Le Mans
. Portraits Malgaches Galerie Rauchfeld Paris
. Documentary on Varian Fry. France 3 graphic participation director. JP Devillers
2014
. Hotel Plaza, paintings, sculptures, Nice
. Château de Monte-Cristo, Park & residence of Alexandre Dumas, paintings, sculptures. Port Marly
. Madagascar, Galerie Bénédicte Giniaux, Bergerac
. Monumental sculpture of Pierre Paul Riquet, Revel (31)
. Documentary on Henri Laffont, Arté, graphic participation, director JP Devillers
2013
. Travels Presbytery Saint Jacques, Bergerac
. Trips, Château de Hauterives, Hauterives
. Cuba, Rauchfeld Gallery, Paris
. Book Cuba New York, special jury prize 2013, Clermont Ferrand