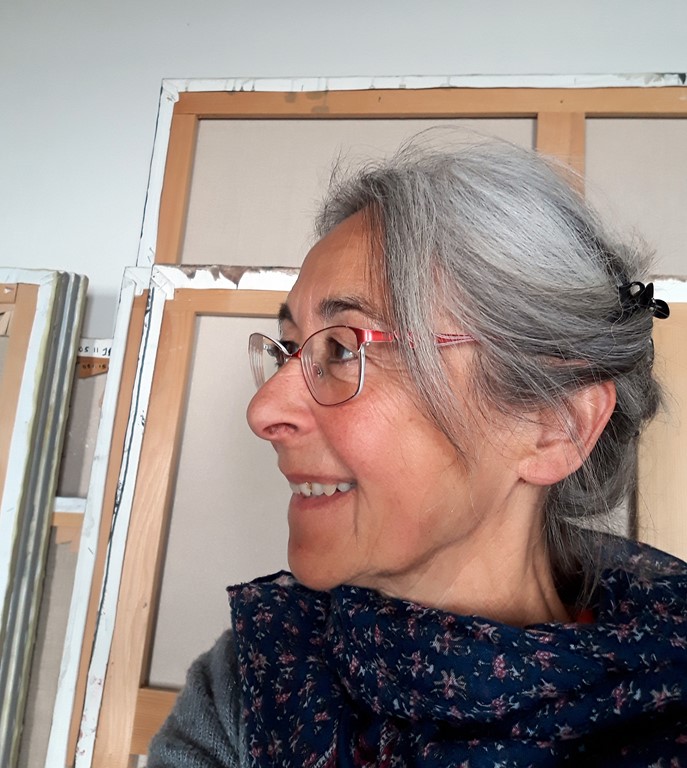 Elisabeth Poiret was born in 1953 in Argenteuil. Around the age of fifteen, meeting Van Gogh and his painting was the trigger for his determination to be a painter.
After two years at the École des Beaux-Arts in Nancy, renowned in particular for teaching graphic design, she will join, on the advice of her teachers, the École Nationale Supérieure des Beaux-arts de Paris, where she will be admitted to the 'workshop of Gustave Singier. She obtained her graduation diploma in 1977.
Then and for twenty years, painting, theater and poetry will be linked and will be part of his daily life.
She now devotes her time to the practice of painting, seen as a spiritual path in its own right, pursuing through a sensitive abstraction her search for "a je ne sais quoi that is achieved by adventure", to resume the words of Jean de la Croix, a practice which allows him to relate to himself and to the world in an opening to the unexpected and in a meditative experience.
« What matters to me in the act of painting is the search, the expectation of a kind of inner truth which I have the intuition of and to which it seems essential to me to give a chance to reveal »
Elisabeth Poiret
Main Exhibitions
• 2018 Domaine de Peyres-Combe (Tarn)
• 2017 Château de Joudes (Saône-et-Loire)
• 2016 Galerie CK – Clermont-Ferrand
• 2015 Museum of Modern and Contemporary Art – Cordes-sur-Ciel (Tarn)
• 2013 Château de Joudes (Saône-et-Loire)
• 2013 Artists and wine, Wine Museum – Paris
• 2013 Carte blanche to Sylvie Hauser – Paris
• 2012 Château de Joudes (Saône-et-Loire)
• 2012 Brenart Gallery – Brussels
• 2010 Château de Cayla – Andillac (Tarn)
• 2009-2010 Gallery 13 – Montpellier
• 2005 Atelier Grognard – Rueil-Malmaison
• 2002 Château de Linardié – Senouillac (Tarn)
• 2002 International Expo of Art – New York
• 2002 Contemporary art 2000 – Espace Auteuil – Paris
• 2001 Belleville workshops – Paris
• 2000 Fontpeyrouse House – Cordes-sur-Ciel (Tarn)
• 1998 Berbie Palace – Albi (Tarn)
• 1992 Castres Theater
• 1990 Galerie Michel Gaudrion – Cordes-sur-ciel (Tarn)
• 1990 With the Departmental Center for Contemporary Art "Chair rail and portico" – Aussillon (Tarn)
• 1989 Galerie Michel Gaudrion – Cordes-sur-Ciel (Tarn)
• 1988 Théâtre du Cheval Fou – Avignon
• 1980 Antoine Béclère Hospital – Clam