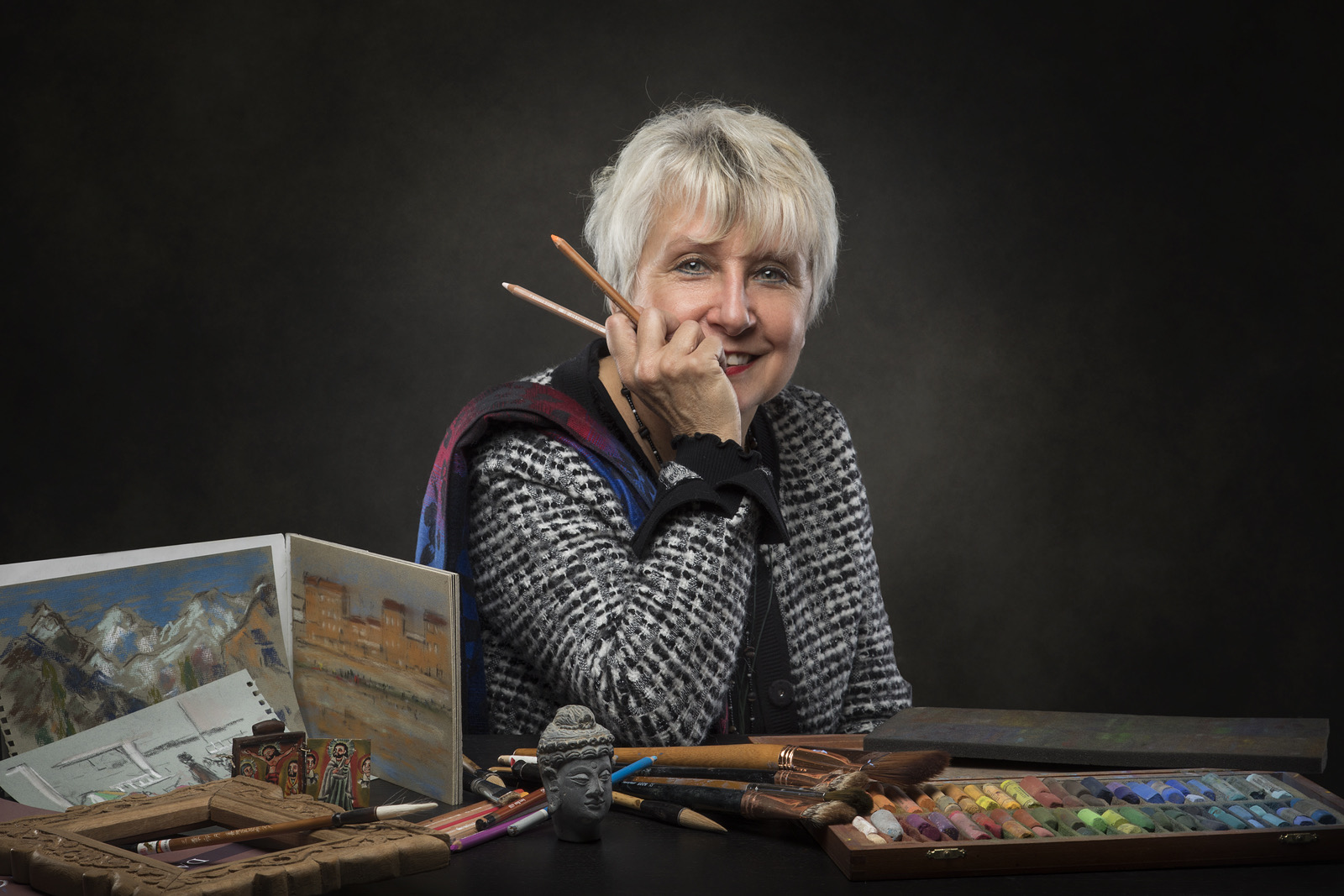 Annette Cunnac was born in 1950 in the Tarn, the land of her first inspirations. In 1983, she moved to Toulouse and joined the School of Fine Arts, (Pierre Darques' studio) and then the Toulouse Academy of Drawing. 
In 2014 she is named Member of the French Artists' Association.
Annette Cunnac, draws the subjects of her works from around her and focuses on two themes, landscapes and life scenes. She tirelessly seeks to capture moments of life as well as the magic of light and colour.
"Sublimate the truth of the subject with an advanced colour palette and with strong contrasts to express the essential and reach an emotional intensity in the work".
In the course of her many travels around the world, she captures moments of life with characters in their familiar attitudes through quick sketches or photographs.  Then, back in the studio, she interprets reality, without ever losing the first impression that aroused her emotion. 
 "I am always in a state of total receptivity so that nothing distracts the eye from what is important. In this way I create a basis of drawings and photographs for the work in the studio. Not to break the spontaneity and freshness of vision is a permanent concern in my indoor practice". 
Imbued with her travels, she takes a new look at her close environment.  Her oils and pastels on Toulouse restore the shimmering colours of the urban landscapes through scenes of life such as the quays of the Garonne, the Rue du Taur or the bars of Toulouse which are both a living theatre and a warmly coloured setting.  It also draws its inspiration from the rolling hills of the Tarn countryside and its brick heritage, whose soft light and warm ochre colours it reveals.
"Painting on the pattern is also a precious moment. You are carried by the subject and the dialogue is immediately established. The technique of pastel confers a great speed of execution to capture a fleeting light, the vibration of a colour and moments of life ".
Main Recent Exhibitions and Distinctions
2020
. Grand Palais, Paris: "Art en Capitale" exhibition.
2019
. Galerie Maje, Toulouse: Personal exhibition "Ici et Ailleurs".
. Hotel Dieu, Toulouse: Group exhibition: "Les 111 des arts" (*)
(*) for the benefit of medical research for serious children's diseases.
2018
. Galerie Maje, Toulouse: Personal exhibition "Poetry and Light on the City".
. Tour de Défense, Villemur sur Tarn : Collective exhibition: "Rencontres Beaux-arts du midi".
. Galerie le Cinq, Rabastens: Personal exhibition "L'Ame du patrimoine".
. Tournefeuille town hall, (31) Collective exhibition. "Toulouse in the Corner".
. Hotel Dieu, Toulouse: Group exhibition: "Les 111 des arts" (*) 
2017
. Chamber of Commerce Hamburg (All.) Collective exhibition "Regards croisés Franco Allemand". 
. Castanet Tolosan Town Hall, Personal Exhibition
. Castelsarrasin Town Hall, Personal Exhibition
. Hotel Dieu , Toulouse : Group exhibition: " Les 111 des arts" (*) 
2016
. Salvagnac Town Hall (81), Personal Exhibition: "The Salvacois Country in Light".
. Salon "Grand Prix d'Arts Plastique" Fousseret, 1st prize for Painting .
. Musée du Vieux Toulouse, Group exhibition: "Images of Toulouse in the 20th century".
. Galerie Paul Sibra, Castelnaudary, Collective exhibition.